The Home for the Holidays
Assisted Living The Musical
$25.00 - $35.00
Sales Ended
A Look at How the Other Half Lives!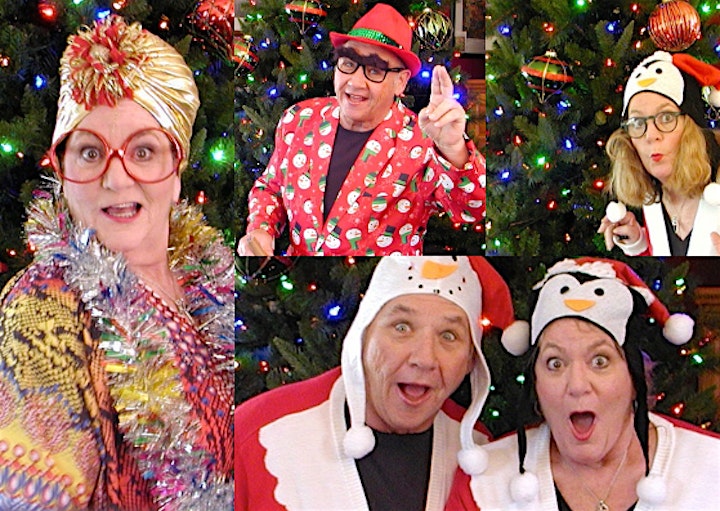 It's the Holidays at Pelican Roost Wellness Center, the party school of retirement communities. From Nutcracker tutus and Peppermint Mocha Ensure® to golf cart parades and pharmaceutical-based activities, it's all part of the Pelican Roost Annual Holiday Extravaganza! The 18 characters you first met in Assisted Living: The Musical® are back and, once again, portrayed by the show's two actors in this vaudeville-esque musical revue, featuring numbers like "Chili Today and Hot Tamale," "The Peril of the Bells," and "Wrapper's Delight."
From early retirement right up to the pulling of the plug, 21st Century seniors are partying like it's 1969. Imagine: no work, no pregnancy and a full array of Medicare-subsidized pharmaceuticals. They are partying at Pelican Roost, the full-service retirement community that is home to the 18 different characters played by the show's two actors. Assisted Living: The Musical® is for everyone who is aging, or hopes to do so someday. You'll see your parents, your friends and maybe some of yourself.
"I doubt there's another show touring, that can entertain the "senior" audience and their families as well as Assisted Living the Musical. This show nails it!" -Las Vegas Review Journal -Las Vegas Review Journal
"Gently funny, & touching on topics near and dear to baby boomers and their parents." -San Francisco Examiner
"A feel good show with lots of laughs.Bring your Mom and Dad, walkers and all"- San Francisco Chronicle
About the Milton Theatre
The historic Milton Theatre is a uniquely diverse venue where you will find the best local, regional, national, and international talent. Free municipal and on-street parking are available. Full bar and light food options available. This facility is fully accessible.