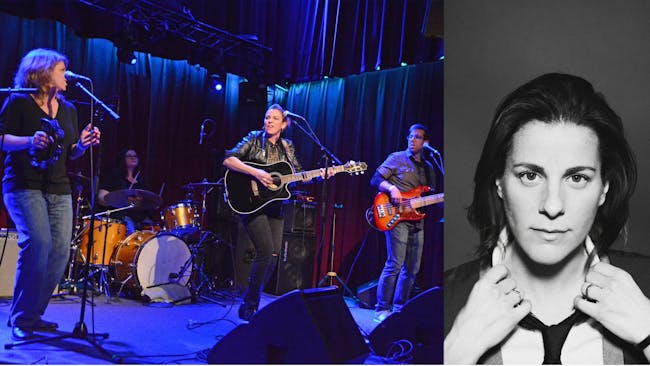 Christine Havrilla and Gypsy Fuzz + Andrea Nardello
Christine Havrilla and Gypsy Fuzz
$15.00 - $20.00
Sales Ended
"Neofunkadelicfolkpoptwangrock"
About Christine Havrilla and Gypsy Fuzz
Award-winning Philadelphia native Christine Havrilla brings her "well-built, catchy, smart tunes" (Upstage Magazine) to audiences everywhere, touring nationally solo and also with the support of her band, Gypsy Fuzz. Christine utilizes the soft gritty texture of her vocals to express warmth and honesty listeners quickly embrace as well as her aggressive, raw, trash-style guitar playing and looping. Ed Kiggins of in D Round raves, "Christine is one of the hardest working women in music. With her child prodigy-come-of-age guitar virtuosity, a supremely passionate and emotive voice, and an arsenal of wonder songs that have endeared her to a loving and devoted audience, she is in a class all of her own. She calls her unique style Neofunkadelicfolkpoptwangrock, but we simply call her brilliant!" Main Line Today Magazine lists Christine as one the 25 "Power Women ready to lead." "Christine Havrilla is a creative, talented powerhouse wrapped up in one complete package!" exclaims Nor'easter Magazine. Mike "Jacobs" McKenna of Steel Notes Magazine says, "This ambitious Philly native manifests her talent in certain ways that allow her to create eclectic music which will grab your heart and leave a lasting memory. Her Roots/Folk/Americana background coupled with that unique individuality that she possesses allows her to be a presence that steps into many genres and gives her the tools to crossover to different music formats." Mark Rogers from 93.7 WSTW raves, "…with Gypsy Fuzz, Christine takes especially that rock element and turns it to 11." Named "One of the Top Ten Indie Artists" by The Advocate Magazine, The Washington Post writes, "(Havrilla's) songs are intelligent and moving, the arrangements are incisive and colorful, and, best of all, Havrilla consistently comes across as a confident and seasoned performer." Christine has shared the stage with artists like Brandi Carlile, Chely Wright, Jeffrey Gaines, America, Jill Sobule, Janis Ian, Antigone Rising, Melissa Ferrick, & Davy Knowels to name a few. Gypsy Fuzz's premier album titled "Searching. Finding. Living.", co-produced by Larry Crane (Elliott Smith, Sleater-Kinney, Cat Power), was listed on Advocate Magazine's not to be missed "Best Overlooked Albums". Christine is listed with Takamine Guitar's Worldwide Artists, Clayton Picks, Audix Mics, was a featured Artist for American Musical Supply's Singer/Songwriter Month (Feb 2015, 2017), nominated for About.com's 2013 Reader's Choice Awards, awarded the 2010 Garden State Film Festival's "Best Contemporary Country Song" for "Blinders", nominated for 3 "Homey Awards" (2015) for 93.7 WSTW, and is called "...raw, simple, wonderful!" by Curve Magazine. Inessa at 101.9 KINK.FM calls Gypsy Fuzz "Yet another fun late-year discovery!" Michaela Majoun, former DJ from 88.5 WXPN, applauds her "terrific, big sound", while Philadelphia Magazine states, "She rocks!" Christine is noted in the new book by Sean Kay called "Rockin' the Free World" (Dec 2016 Roman & Littlefield). 2018 marked Christine's 20th Anniversary of the album "Some Other Thing", with a re-print as well as bringing songs back to the current set list while touring! The band has a new studio album called "Sunless Escapade", recorded at Studio 1311 outside of Philadelphia, PA and set for a March 2019 release!"
About Andrea Nardello
Philly's Andrea Nardello has garnered favorable comparisons to Melissa Etheridge and Shawn Colvin for melding pop songwriting smarts with a confessional and literate songwriting style, exploring relationships, romance, and her out family life. Nardello's refined accessibility draws from folk, pop, rock, and even the swagger of hip-hop. She can tug at your heartstrings with her softer tunes and get you dancing on your feet with her upbeat songs and powerful voice. Fans ride an unforgettable emotional roller coaster during her live shows.
Nardello has been busy touring and has opened for well known artists like Colbie Caillat, Brandi Carlile, Tony Lucca, Gabe Dixon, Ron Pope, Emerson Hart of Tonic Fame, and Tim Reynolds of The Dave Matthews Band. After releasing ECHO, Nardello won the prestigious Philadelphia Songwriter's Project Contest and won Tri-State Indie's "Acoustic Artist Of The Year." Her songs, "Leave The Light On" and "Home To Me" each won WSTW's Award for Folk Song Of The Year.
Nardello also spends time fundraising for important causes like The American Foundation for Suicide Prevention and The MILE (Music Is Love Exchange). Nardello completed two service trips to Guatemala in support of the MILE. The MILE is a network of artists, musicians, and music lovers that bring positivity and change to the lives of disadvantaged and underserved children, strengthening families and communities both in the U.S. and abroad. Nardello is always willing to help, offer her time and believes that music is a universal language that helps heal and connects us all.
This year, Nardello teamed up with long time friend and collaborator, Matt Duke, to produce her new EP, Human, to be released on Noble Steed Music, August 17th. This beautifully haunting EP was recorded in Nardello's home. She is excited to share it with her fans and expects to tour in the fall.
"For me, "Human" is a collection of songs that explores vulnerable topics. Loving someone when they are broken. Striving to challenge yourself when you are stuck. The final stages of life and all that is unknown. It is truly a soundtrack of my life and the people in it. I always get nervous before releasing new music and my only hope is that anyone who listens can connect to these songs in some special way."
About the Milton Theatre
The historic Milton Theatre is a uniquely diverse venue where you will find the best local, regional, national, and international talent. Free municipal and on-street parking are available. Full bar and light food options available. This facility is fully accessible.