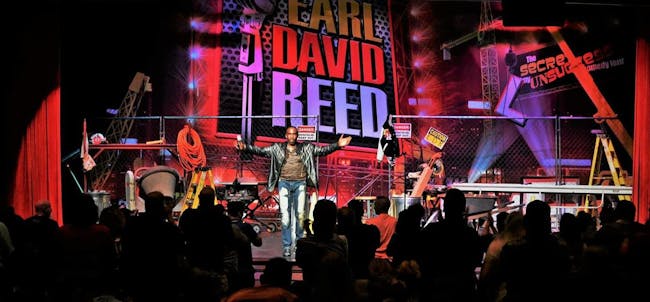 Opening Act: Keith Purnell
Earl David Reed
Keith Purnell
As seen on The Tonight Show with Jay Leno, HBO, Showtime, and more!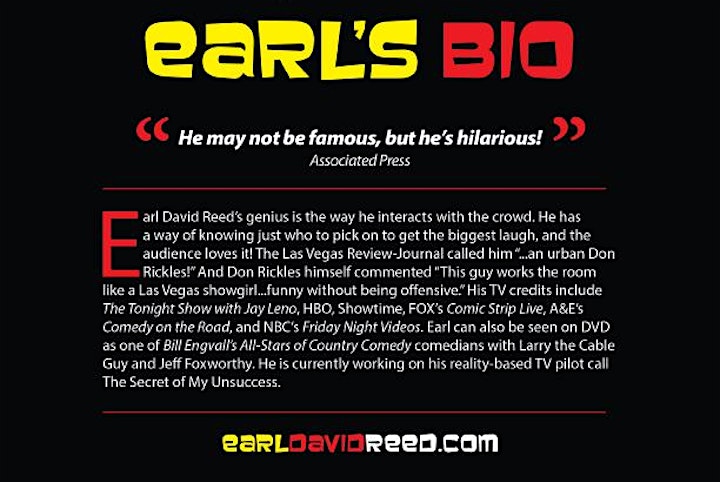 "A relentless rollercoaster of improv and humor" - Associated Press
About Earl David Reed
EARL DAVID REED is a trendsetter in the comedy and radio world. Within his 15 years of stand up comedy, Earl has performed at over 100 comedy clubs and colleges and is a favorite in Las Vegas and Atlantic City. Along with his 10 years of morning broadcasting experience and numerous television appearances, his improvisational style has become a favorite of radio and stage audiences all around.
Earl David Reed's genius is the way he interacts with the crowd. He has a way of knowing just who to pick on to get the biggest laugh, and the audience loves it! The Las Vegas Review-Journal called him "...an urban Don Rickles!" And Don Rickles himself commented "This guy works the room like a Las Vegas Showgirl... funny without being offensive." His TV credits include The Tonight Show with Jay Leno, HBO, Showtime, Fox's Comic Strip Live, A&E's Comedy on the Road, and NBC's Friday Night Videos. Earl can also be seen on DVD as one of Bill Engvall's All-Stars of Country Comedy comedians with Larry the Cable Guy and Jeff Foxworthy. He is currently working on his reality-based TV pilot called The Secret of My Unsuccess.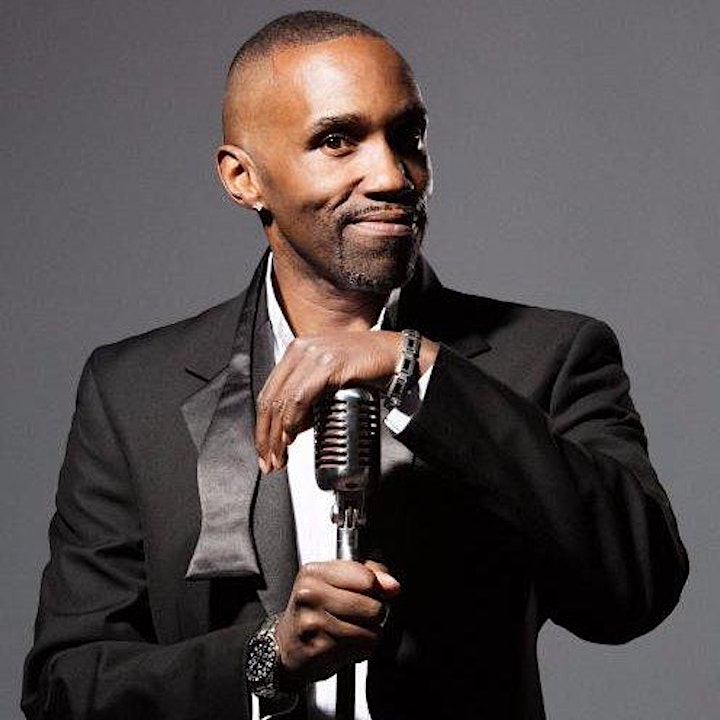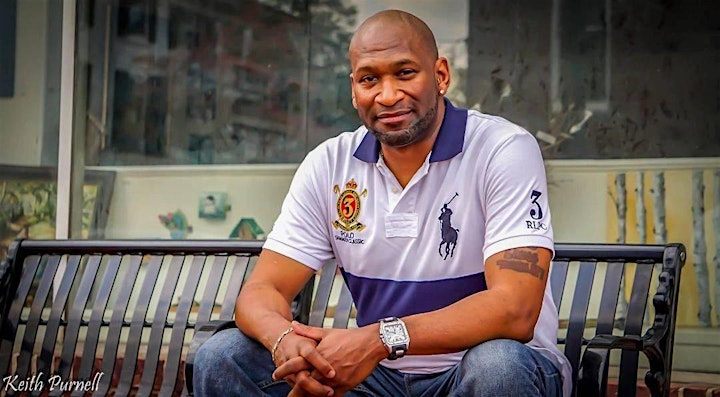 With Opening Act: Keith Purnell
Official Website | YouTube | Facebook
Keith is one of the fastest rising comics from Delaware. He's a high energy performer whose quick wit, style, and fast pace humor makes him a hit and personal favorite of audiences young and old. He performs at Comedy Clubs across the country and has appeared on Television and in Movies. He was a winner in the Howard Stern "Kill or Be Killed" Comedy Competition and was the Philadelphia Regional winner in the Sierra Mist Next Great Comic Comedy Competition. Keith has had appearances on Last Comic Standing and is gaining the reputation as the next rising star. So watch out America, he's coming your way....be prepared....he's armed with Laffs!!!!!
About the Milton Theatre
Official Website | Facebook | Twitter | Instagram
The historic Milton Theatre is a uniquely diverse venue where you will find the best local, regional, national, and international talent. Free municipal and on-street parking are available. Full bar and light food options available. This facility is fully accessible.