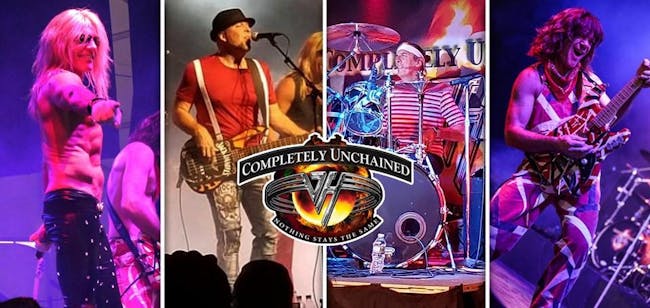 The Worlds Greatest Tribute To VAN HALEN
Completely Unchained Van Halen Tribute
"COMPLETELY UNCHAINED" The Ultimate Tribute to Van Halen: doing all David Lee Roth Era and all the greatest hits from the Van Hagar years!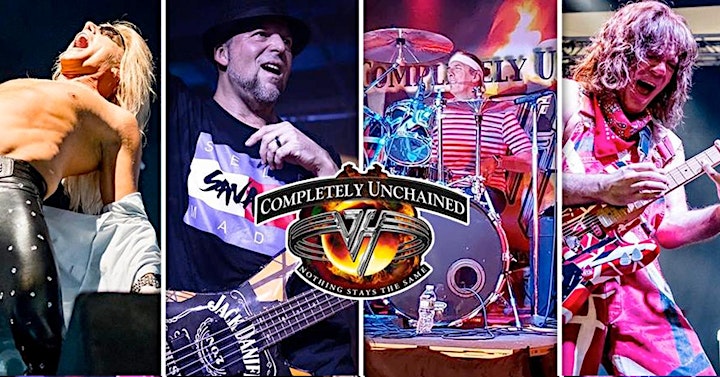 About Completely Unchained
Official Website | YouTube | Facebook
Completely Unchained is the only complete Van Halen tribute to the entire Van Halen catalog. All the lights, the sound , the magic, and most of all the spirit that captures every era of Van Halen. All the classic hits, the Sammy Hagar years, and David Lee Roth's greatest solo hits. Completely Unchained does it all, in one amazing fun-filled, family-friendly show.
So come on – dance the night away, enjoy the best of both worlds and jump to Completely Unchained – simply the best and most complete Van Halen show ever.
Who doesn't love the way Van Halen rocked the world from 1978 to 1984? They had it all, including the best guitarist on the planet. A lead singer with the biggest personality in our Solar System. A bass player who laid down the law on bass while singing pristine harmonies over the top. And a drummer who kicked everyone's butt. They created some of the best tunes ever heard on the radio and they all smiled those big smiles while doing it. Every show was a huge party and it just felt good.
Completely Unchained are four talented and creative musicians that re-create the ultimate Van Halen production – the attitude, sounds, excitement, energy and most of all the fun that Van Halen produced as one of the best rock bands in the world. Starting off by reproducing the very best of the original line up, then merging the "Van Hagar" era with some David Lee Roth solo hits, completes a whole catalog of the greatest hard rock songs ever recorded.
Completely Unchained takes the concept of a tribute band and raises it to a whole new level. Not only do we recreate the music with unsurpassed skill, but the stage energy and the production at a Completely Unchained show is unmatched. No one else brings the entire package together like Completely Unchained. Come to a show and judge for yourself.
About the Milton Theatre
Official Website | Facebook | Twitter | Instagram
The historic Milton Theatre is a uniquely diverse venue where you will find the best local, regional, national, and international talent. Free municipal and on-street parking are available. Full bar and light food options available. This facility is fully accessible.