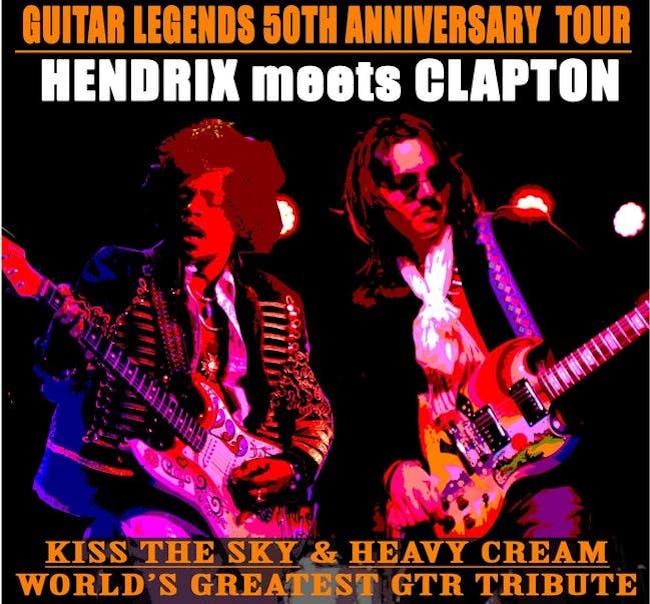 Featuring Kiss the Sky and Heavy Cream
Kiss the sky
Heavy Cream
$25.00 - $30.00
Sales Ended
Watch two of your all time favorites come alive on stage with stunning accuracy and talent!
Kiss The Sky returns to Milton Theater with their authentic visual and audio representation of Jimi Hendrix. Adding to the authenticity live, Kiss The Sky's front man Jimy Bleu is left handed! Joining Kiss The Sky for their Milton Theater debut is Heavy Cream, a stunning recreation of Cream and Blind Faith out of Philadelphia! The two bands will recreate the 1968 landmark albums 'Electric Lady land' and 'Wheels Of Fire,' plus iconic concert moments. Stay Tuned for a Historic Hendrix and Clapton Encore special!!!!!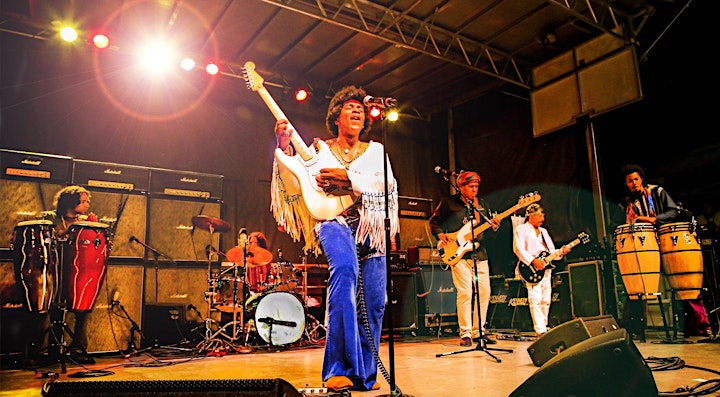 About Kiss the Sky
Website | Facebook | Instagram | Video
Described by Rolling Stone Magazine as: "Yes believe the hype! This show lives up to it!" , Kiss The Sky is the the only band to receive rave accolades by the remaining members of Jimi Hendrix's original bands including Billy Cox, Juma Sultan and Gerardo "Jerry" Velez, who have all taken the stage with Kiss The Sky's world class musicians. Kiss The Sky is the premiere, most historically accurate Jimi Hendrix show ever, starring Jimy Bleu, the world's longest running Jimi Hendrix tribute artist. Like Hendrix, Bleu is a virtuoso, left-handed guitarist and wows audiences by recreating all of Hendrix's signature stage moves. Kiss The Sky is the only Hendrix show with spot-on look-a-like & sound-a-like performing musicians representing both of Hendrix's groups, the Experience and the Band of Gypsys. The show features meticulously replicated custom clothes, instruments and gear of those actually worn and used by Jimi Hendrix.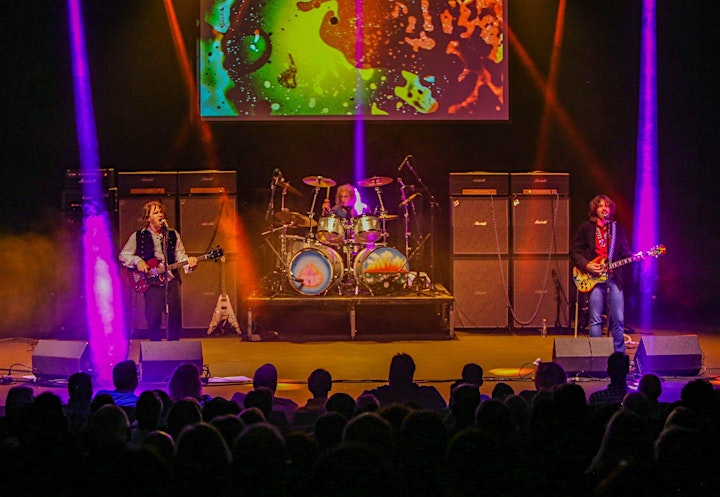 About Heavy Cream
Website | Facebook | Instagram | Video
HEAVY CREAM is quickly becoming the definitive tribute to CREAM, rock music's original SUPER GROUP!
Formed from Britain's best talent in 60's musical virtuosity, Cream featured the legendary Ginger Baker on drums, the incredible Jack Bruce on bass and lead vocals, and the man they called 'God' on guitar...Eric Clapton. Their rise was meteoric...bright, fast, and powerful, but short-lived. While the group burned out before the 60's were over, Cream's music has stood the test of time. White Room, Sunshine of Your Love, Crossroads, Badge and many more monster 60s hits, in addition to a supreme live show performing reputation have left a lasting legacy of the first 'Power Trio' that blended rock, jazz, blues, and psychedelic into the standard that all other classic rock bands would be measured against.
For the first time, with stunning historical accuracy in both look and sound, a tribute to Cream has been assembled...HEAVY CREAM out of PHILADELPHIA. Boasting spec replicas of the famous 'Fool' artwork guitars of Clapton and Bruce and Ginger Baker's legendary double Ludwig drum kit, as well as Cream's signature stack of British Marshall Amps, plus authentic wardrobe that Cream actually used at their most memorable 60's shows, this band has all the requisite parts to re-create Cream's classic concerts for today's audiences. And they have the talent too! Picked for their uncanny abilities to mimic Cream in both look and sound, three of Philadelphia's best musicians have set out bring back the experience hearing and seeing the Cream's music LIVE!
About the Milton Theatre
Official Website | Facebook | Twitter | Instagram
The historic Milton Theatre is a uniquely diverse venue where you will find the best local, regional, national, and international talent. Free municipal and on-street parking are available. Full bar and light food options available. This facility is fully accessible.