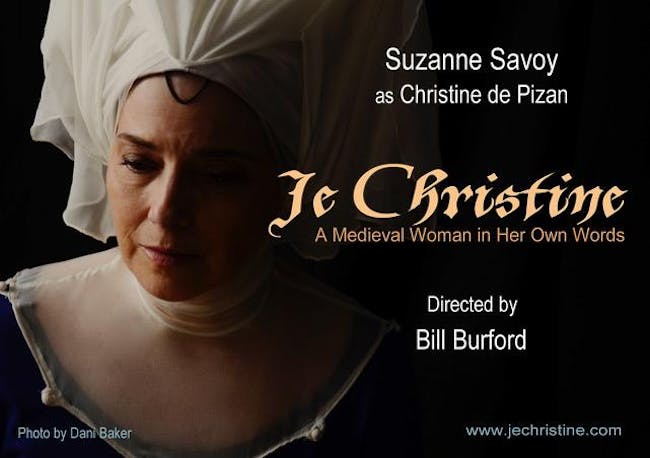 Je Christine: A Medieval Woman in Her Own Words
Proceeds from this performance will benefit Milton Theatre's Capital Campaign in memory of Jean and Prew Savoy. Jean was a well-loved performer who graced the stage of the Milton Theatre and others in Sussex County.
Je Christine: A Medieval Woman in Her Own Words is a ninety-minute one-woman live performance translated from the original works of Medieval author and poet Christine de Pizan (c.1364 - c.1430). Talkback following the show.
About Suzanne Savoy
SUZANNE SAVOY is a veteran of stage and screen, recurring in House of Cards, Better Call Saul and The Knick. She appeared as Charlotte in the 2019 film release The Upside and has performed at Cherry Lane Theatre in NYC, Dallas Theatre Centre, and The Alley Theatre and Houston Shakespeare Festival in Houston,TX. She is a graduate of the National Theatre School of Canada.
Ms. Savoy is also an educator and designer; she founded Mercury Studio for Actors in Houston and created & ran the education program for NYC touring company The Shakespeare Project. She designed sets, costumes and puppets for The Shakespeare Project and most recently designed costumes for Bloodstone Theatrical's Night With Guests. She lives in Manhattan and retreats regularly to the family home in Lewes, DE.
Who was Christine de Pizan?
CHRISTINE DE PIZAN (1364 - C.1429) was born in Venice. From the age of five she lived in Paris, as her father had been summoned by King Charles V to act as his medical and astrological advisor. Christine was encouraged in her love of learning by her father and had access to the royal library. Widowed at the age of twenty-five and with a family to support, Christine achieved notice by writing poems for the nobility. When she publicly entered into a famous literary debate concerning a controversial book, The Romance of the Rose, her position as an important scholarly voice was secured.
During a time of war, plague, and political upheaval, Christine's written counsel became increasingly valued by the royal family. Christine published her own books, employing scribes, illuminators, and book-binders. Her many works cover a range of styles: love poetry, allegory, biography, educational treatises, public correspondence, spiritual writings, and a heroic poem dedicated to Joan of Arc, who was Christine's contemporary. The City of Ladies and The Book of the Three Virtues stood in defense of women's worth five centuries before feminism became a recognized cause. The Book of Deeds of Arms and Chivalry, a manual on preparation for battle and on the laws and philosophy of war, is still referenced at military academies.
About the Milton Theatre
Official Website | Facebook | Twitter | Instagram
The historic Milton Theatre is a uniquely diverse venue where you will find the best local, regional, national, and international talent. Free municipal and on-street parking are available. Full bar and light food options available. This facility is fully accessible.