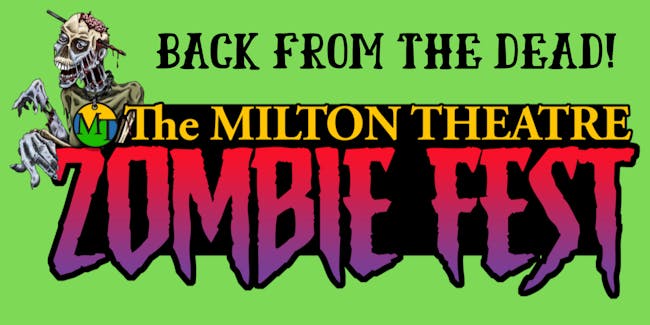 Milton Theate ZOMBIE FEST invades Dewey Beach!
3AM Tokyo
Kategory 5, Lower Case Blues, Hoochi Coochi, Indian River
Zombies are back from the dead! The undead rise from the grave as the revived MILTON THEATRE ZOMBIE FEST invades DEWEY BEACH!
The zombies are BACK! The Milton Theatre's annual Zombie Fest invades Dewey Beach complete with live music at northbeach (4-8PM), vendors, food, zombie make-up stations, Kids Fest, costume contests, and of course, the Zombie Walk at 8PM when the party moves to Bottle & Cork (8PM-11PM)! Join the Milton Theatre in Dewey Beach as we try to survive an evening of haunting entertainment of epic proportions!
More details below and on our Milton Zombie Fest Facebook page.
Proceeds from the event will benefit the Milton Theatre Capital Campaign, Milton Public Library, Milton Fire Department, and Milton Community Food Pantry.
More details on the Milton Theatre's capital campaign here.
TICKETS
Tickets are $10. Children 12 and under are free. Tickets include gate entrance at northbeach, Zombie Walk, and entrance to Bottle & Cork! Reserve Kids Tickets in advance!
THE INVASION STARTS AT northbeach
(4:00-8:00 PM)
Guests will enjoy plenty of food from local food vendors, shopping from local merchants, and a little bit of horror from street performers! MAKEUP STATIONS will be provided by the Delaware Learning Institute of Cosmetology for zombie transformations.
LIVE MUSIC
KidsFest (Kids Get In Free!)
Kids will enjoy bounce houses, face painting, and their own costume contests
Zombify Your Car
Grab a "Zombify Your Car" ticket to join our signature car decorating contest!
Pumpkin Carving Contest
Carve your best pumpkin! Scary, funny, or creative! Limited spots available, so reserve your spot now! Drop off your carved pumpkin to the northbeach Main Gate by 5pm on Oct 19.
Zombie Fest FREAK SHOW!
Check out some of the roaming LIVE entertainment at the festival grounds featuring
ZOMBIE FEST GOES TO BOTTLE & CORK!
Our Traditional Zombie Walk has been completely revamped! This year, the horde of undead will take the party from northbeach to Bottle & Cork. Step-off is at 8:00PM proceeding East towards the Bottle & Cork.
You won't want to miss out on the fun of transforming yourself and the entire crowd into zombies!
The Zombie Invasion continues at the Bottle & Cork stage with live music until 11 PM!
(21 and above)
LIVE MUSIC
Quirky Merchandise Vendors apply HERE
Food Stalls apply HERE
Become a Sponsor HERE
Volunteer for the event HERE