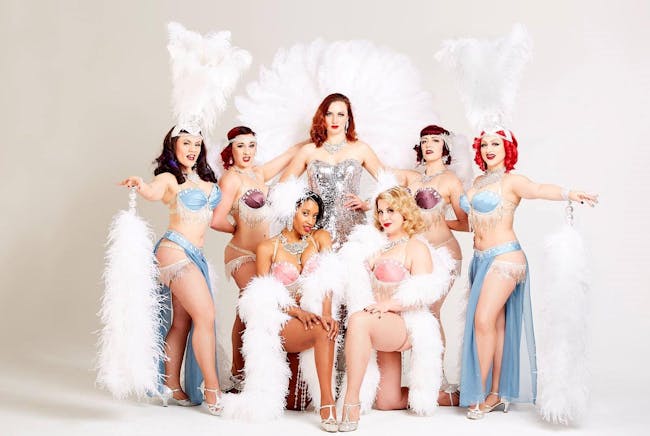 Neo-Burlesque Holiday Show!
Peek-a-Boo Revue... Presents: FROST BITE
$20.00 - $25.00
Sales Ended
Frost Bite, a Burlesque Holiday pleaser!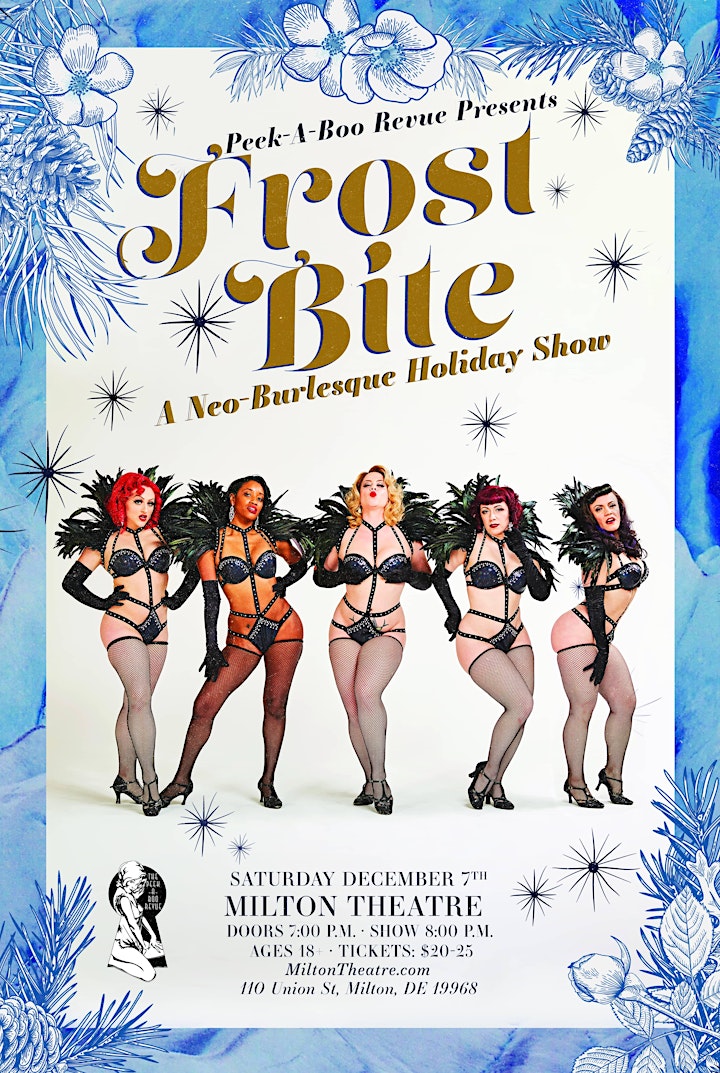 The Peek-A-Boo Revue Presents Frost Bite
The air is chilled, the tree is dressed, and the stocking garters are snapped in with care! It's the most wonderful time of the year, so come celebrate and share your Peek-a-Cheer. There'll be a drum line of babe-toy soldiers, a medley of your Holiday regrets, and horns a plenty provided by our house band, The Strip Tease Orchestra. We've wrapped ourselves in bows, sequins and sparkles; the only present missing under the tree is you! The quickest cure for an inner Grinch is to grab you a seat! We're sharing all the love and then some this holiday season. Peek-A-Boo Revue presents Frost Bite, a Burlesque Holiday pleaser!
Philly's beloved burlesque troupe is going to entertain you until it hurts with their devilishly divine combination of dancing, classic striptease, and comedy. The ladies of The Boo are going to whip your senses while Muff Johnson and Count Scotchula tickle your funny bone. You'll never know what to expect next. It is live entertainment at its finest!
Since 1998, in Philadelphia PA, one troupe has kept the spirit of cabaret, burlesque and all-around "showbizzy-ness" alive by presenting a new show each month — The Peek-A-Boo Revue! An adults-only pastiche of singing, dancing, and comedy all wrapped up in a Burlesque Show!
Starting humbly in The Five Spot niteclub as a variety show created by the owner Phil Cohen, who also sheparded the group as its producer and staunchest ally, the show grew rapidly. What started as a Wed. evening affair would blossom into 2 shows every 1st Sat. A show freshly-minted EACH Month!
The group would eventually 'morph' into a tight-knit cast of friends, an ensemble of men and women capable of almost anything onstage (and sometimes even offstage). The group (dubbed as a 'neo-burlesque' troupe) has performed for a wide-range of audiences over the years, and been attached to many high-profile events, festivals and causes (willing to attach the 'edgy' elements of burlesque) including:
The Cartoon Network's ADULT SWIM Fan Picture Show
Cartoon Network's Adult Swim 4 your lives(part of the Festival of Independents)
The Velvet Hammer Documentary's Philadelphia premiere
The Philadelphia Gay and Lesbian Film Festivals
Cirque de Soleil's post-premiere party (2002 and 2004)
Jennifer Tilley (Bound over Broad Street) Criminal Convention (PIGLFF)
The Philadelphia Fringe Festival – Late Night Cabaret
In Liquid Arts Benefit (PA)
Womens Coalition for Sexual Freedom (PA)
Azuka Lounge: A Happy Hour Event Holiday Bash!
Benefit for Azuka Theatre (PA)
About the Milton Theatre
The historic Milton Theatre is a uniquely diverse venue where you will find the best local, regional, national, and international talent. Free municipal and on-street parking are available. Full bar and light food options available. This facility is fully accessible.