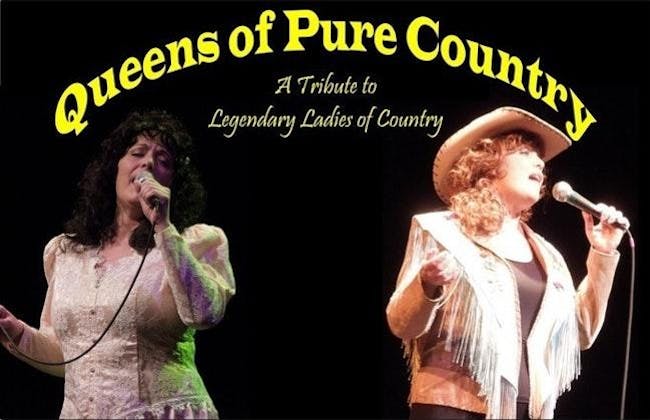 A Tribute To Country Music's Legendary Ladies!
Queens of Pure Country
Imagine Kitty Wells, Dolly Parton, Tammy Wynette, Loretta Lynn, Dottie West & Reba McEntire all on the SAME STAGE on the SAME NIGHT!
About Queens of Pure Country
In "Queens of Pure Country Josie portrays NINE country greats from yesterday and today. Complete with authentic costume changes and capturing each hit song with the style and poise that has earned her the title 'New York State's Queen of Country Music'
JOSIE WAVERLY brings the music of, not one, but EIGHT legendary ladies of country music to the intimate setting of The Milton Theatre!
Josie wowed audiences with her Patsy Cline tribute at our Cash & Cline shows, and we were excited about bringing her Queens of Pure Country solo show here. Josie did NOT disappoint! Her amazing versatility as a performer and vocalist was on full display as she paid tribute, not to one, but EIGHT, legendary ladies of Classic Country. Audiences were so thrilled, they clamored to bring her back.
Josie Waverly flawlessly transitions from one incredible icon to another, including (pictured left to right) Reba McEntire, Loretta Lynn, Patsy Cline and Barbra Mandrell as well as Tammy Wynette, Dolly Parton, Kitty Wells and Dottie West!
With swift costume changes and her powerhouse voice, Josie captures the heart and soul of each of the Queens that she presents. You'll enjoy at least 20 of your favorite hits in this amazing concert.
About the Milton Theatre
Official Website | Facebook | Twitter | Instagram
The historic Milton Theatre is a uniquely diverse venue where you will find the best local, regional, national, and international talent. Free municipal and on-street parking are available. Full bar and light food options available. This facility is fully accessible.