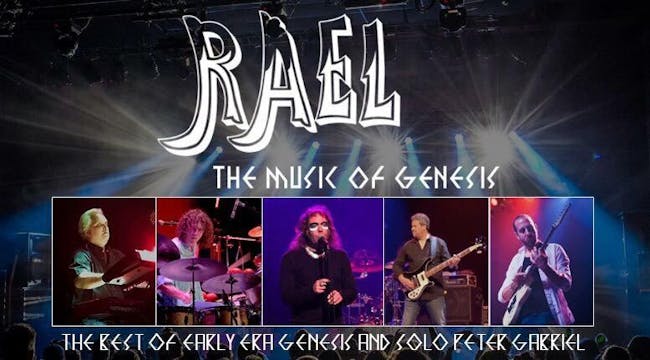 GENESIS early era tribute band including Peter Gabriel solo hits!
About RAEL
RAEL-The Music of Genesis is a New York City and Northern New Jersey-based tribute band that recaptures the energy and originality of the "early years" live stage performances by Genesis. RAEL pays homage to the most groundbreaking and influential band in the progressive rock genre by incorporating the musical excellence, lyrical storytelling, and theatricality that brought Genesis to a position of prominence in the rock world.
RAEL-The Music of Genesis brings older listeners back to the day, while introducing progressive rock newcomers to the sights and sounds right along with other legendary bands such as Pink Floyd, Yes, Rush, and King Crimson to name but a few. RAEL is focused on faithfully reproducing full album versions from the Peter Gabriel and Steve Hackett days of Genesis. Performances include tracks from Nursery Cryme, Foxtrot, Selling England by the Pound, The Lamb Lies Down on Broadway and A Trick of the Tail.
Concert audiences rave about their high energy shows and musical detail. RAEL also includes solo Peter Gabriel hits in their performances. The members of RAEL are: Lloyd Gold (lead vocals, flute), Mike Belmonte (bass, bass pedals, backing vocals), Paul Sheehan (drums and cymbals, backing vocals), Michael LaBuono (keyboards), Sal Locascio (guitars, backing vocals)
About the Milton Theatre
Official Website | Facebook | Twitter | Instagram
The historic Milton Theatre is a uniquely diverse venue where you will find the best local, regional, national, and international talent. Free municipal and on-street parking are available. Full bar and light food options available. This facility is fully accessible.