The Voter Suppression Playbook
Rigged Film Screening
$8.00 - $10.00
Sales Ended
What would a rigged election mean for the American people and our democracy? Investigating the 2016 Presidential Election.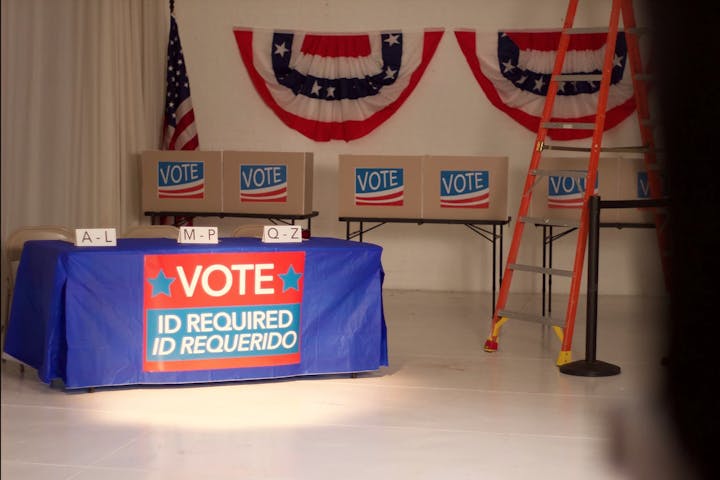 Rigged: The Film | Not Rated
Official Website | Facebook | Twitter | Instagram
What would happen if political operatives tried to subvert the sacred American principle of "one person, one vote?" What if they hatched and pursued that plan for years before anyone noticed what they were doing? That is the frightening tale told in a new feature documentary, Rigged: The Voter Suppression Playbook. Narrated by Jeffrey Wright, and shot during the chaotic 2016 election, the film identifies and unpacks a shrewd ten-part strategy developed by Republicans to suppress votes that would be cast against them.
Why did they do it?
Obama's 2008 victory revealed a rising demographic tide of non-white and younger voters that threatened GOP success into the future. Mark McKinnon, a former Republican strategist, notes in the film that Republicans could have moved toward the center and appealed to the rising minority majority, but instead the GOP "figure[d] out how you turn out more of your people and less of the other guys." In short, suppress the vote.
How did they do it?
Rigged shows viewers just what they did – and continue to do – from creating new barriers to voter registration, to purging American citizens from the voting rolls without notice, to new and deliberate impediments to casting a vote. In addition, the film shows how GOP activists developed an elaborate but false narrative of widespread voter fraud in order to justify the necessity for new and draconian voting restrictions.
The message of Rigged?
In the wake of the 2018 elections, our democracy is still in peril. Rep. Elijah Cummings (D-MD) states in the film, "I fear for our younger people. I fear they will not have the kind of democracy I experienced . . . somebody's got to say, 'This is not right." Somebody's got to say, 'We can do better.'"
About the Milton Theatre
Official Website | Facebook | Twitter | Instagram
The historic Milton Theatre is a uniquely diverse venue where you will find the best local, regional, national, and international talent. Free municipal and on-street parking are available. Full bar and light food options available. This facility is fully accessible.
Milton Theatre Art House Film Series
The "Milton Theatre Art House Film Series" celebrates some of the very best award-winning films that you may not have heard of! This is the chance for film lovers to appreciate these great works in a physical space where cinema truly comes alive! Now, more than ever, the world needs thought-provoking, meaningful and life-changing art, and the venues in which to experience it. The Milton Theatre Art House Film Series acknowledges the vibrant and multifaceted independent film culture that exists outside of the mainstream cinema while simultaneously celebrating some of Hollywood's greatest releases!