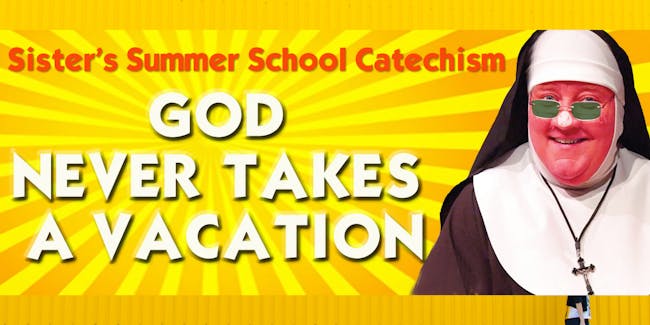 Sister's Back! Because God Doesn't Take A Vacation!
Sister's Summer School Catechism
Did Jesus have to go to summer school?
Sister's Summer School Catechism
It's summer and Sister is NOT happy. It seems the diocese has decided to offer a summer school catechism course for those students who weren't paying attention all year. Instead of three relaxing weeks at the mother-house, Sister is stuck with her students this summer! And summer is already rough enough for Sister – try wearing 50 pounds of gabardine in 90-degree heat! Sister will discuss such questions as, "Did Jesus have to go to summer school? Or "What is an appropriate summer vacation for a practicing Catholic?" And she's sure to talk about the best way to make use of what's left of your summer vacation. Beat the heat with Sister this summer, and if you know what's good for you, don't be late!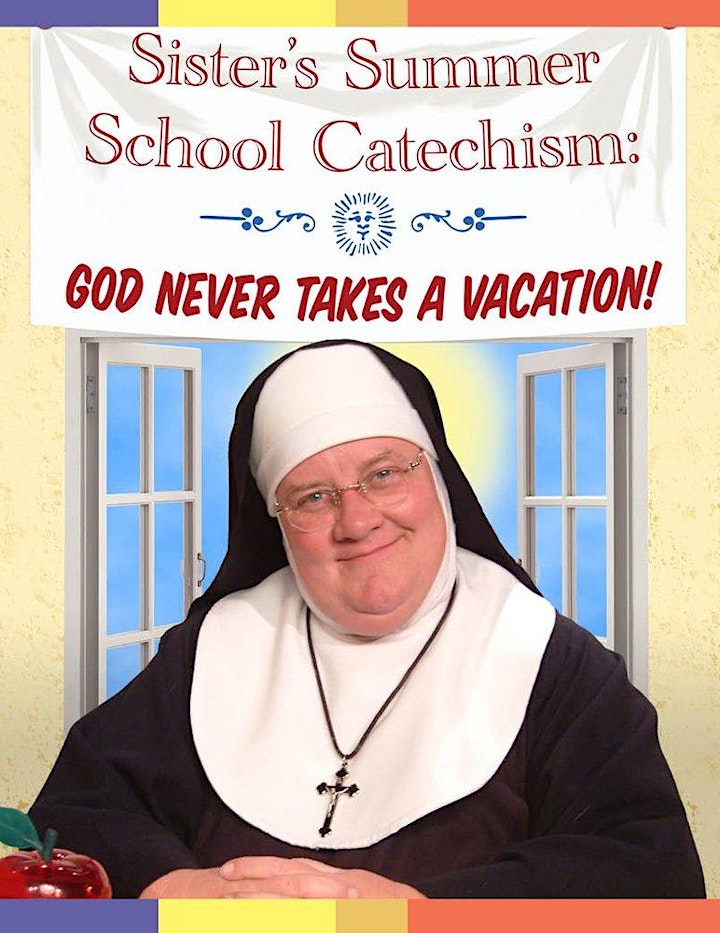 About Late Night Catechism
Late Nite Catechism written by Vicki Quade and Maripat Donovan, made its debut May 28th, 1993 at the Live Bait Theatre in Chicago, Illinois and since then has grossed over $100 million in box office receipts. It has been presented in over 410 cities around the world, has played 6 countries with more than 3.5 million people in attendance. The show has raised over $4 million for retired Sisters and Catholic Organizations. There have been over 100 "Sisters" presenting the 8 shows in the series.
Late Nite Catechism is, an uproarious piece of theater that takes audience members back - sometimes nostalgically, sometimes fearfully to the children they once were. The irrepressible Sister teaches an adult catechism class to a roomful of "students" (the audience). Over the course of the play, Sister goes from benevolent instructor, rewarding the "students" for correct answers with glow-in-the-dark rosaries and laminated saint cards, to authoritative drill sergeant. These abrupt mood swings are bound to strike a resonant chord with everyone who survived the ups and downs of going to school, with an omniscient authoritarian at the helm.
In 1997, Donovan learned that when Social Security was implemented, the Catholic Church had opted out for religious sisters. Because of this, the show began taking up a collection for retired nuns. In the past 11 years, the show and its sequels have collected and donated more than $2 million to help nuns across America.
About the Milton Theatre
Official Website | Facebook | Twitter | Instagram
The historic Milton Theatre is a uniquely diverse venue where you will find the best local, regional, national, and international talent. Free municipal and on-street parking are available. Full bar and light food options available. This facility is fully accessible.