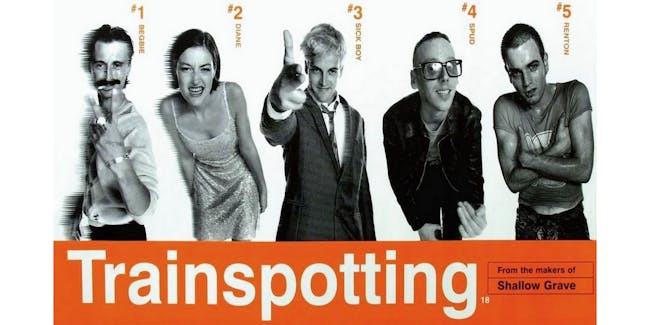 Renton, deeply immersed in the Edinburgh drug scene, tries to clean up and get out despite the allure of the drugs and influence of friends.
A brutal, often times funny, other times terrifying portrayal of drug addiction in Edinburgh. Not for the faint of heart, but well worth viewing as a realistic and entertaining reminder of the horrors of drug use.
Trainspotting (1996) | Rated R
Mark Renton (Ewan McGregor), a young man with few prospects and fewer ambitions, lives in economically depressed Edinburgh. Like most of his friends, Renton is a heroin addict who loves the drug's blissful nothingness; financing his habit also provides excitement and challenges that his life otherwise lacks. Renton's two best friends are also junkies: Sick Boy (Jonny Lee Miller), a snappy dresser obsessed with James Bond, and Spud (Ewan Bremner), a guileless nerd who suggests Pee Wee Herman's debauched cousin. Renton and his pals also hang out with Begbie (Robert Carlyle), a borderline psychotic who loathes junkies even though he drinks like a fish. After one too many brushes with the law, Renton kicks heroin and moves to London, where he finds a job, a flat, and something close to peace of mind. However, Sick Boy, Begbie, and Spud all arrive at his doorstep on the trail of a big score, leading Renton back into drugs and crime.
About the Milton Theatre
Official Website | Facebook | Twitter | Instagram
The historic Milton Theatre is a uniquely diverse venue where you will find the best local, regional, national, and international talent. Free municipal and on-street parking are available. Full bar and light food options available. This facility is fully accessible.