The Milton Theatre, located in historic downtown Milton Delaware, has had an illustrious history in its more than 100 year existence. Erected circa 1910, the two-story building served, at one time or another, as the town's movie theatre, basketball hall, fire station, social center & community stage. Various retail businesses & restaurants also thrived there. It has survived 3 major fires, countless "nor'easters", and decades of neglect. But now, it proudly stands as a hub of artistic culture, not just to the town of Milton, but to the Delmarva Peninsula.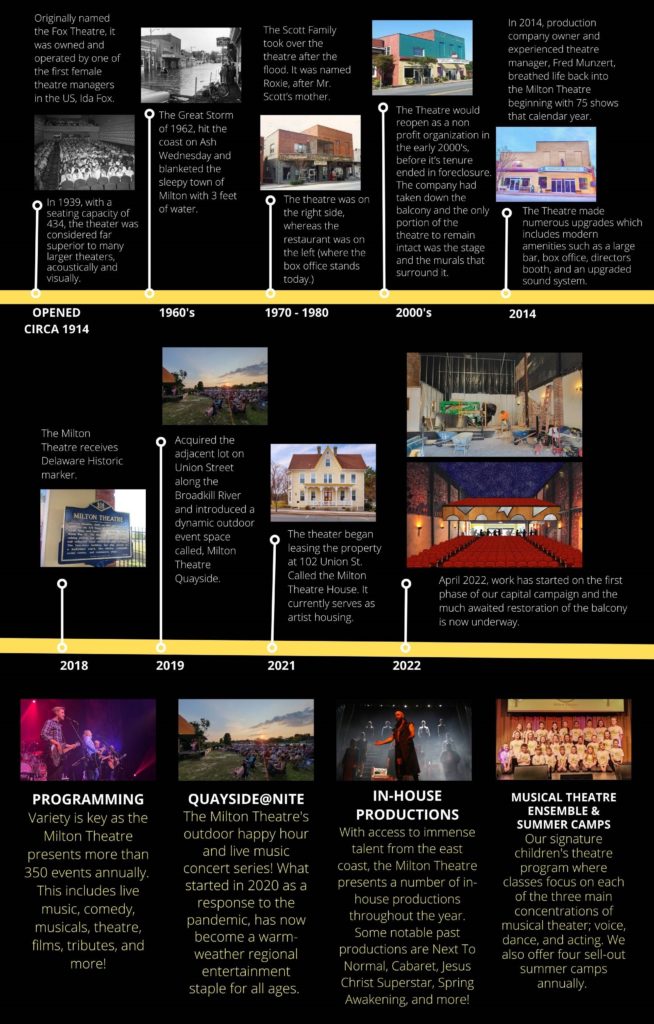 Vision Statement: 
Our vision is to be a thriving and dynamic cultural hub that enriches and inspires the community of Milton and beyond. Through our diverse programming and engaging experiences, we aim to be a destination for world-class performances, innovative collaborations, and meaningful connections. 
Mission Statement: 
Our mission is to provide high-quality entertainment and cultural experiences that educate, inspire, and entertain our audiences. We are committed to presenting a diverse range of programming that reflects the unique character and interests of our community, and to be a driving force of cultural and economic growth in the region.