BECOME A QUAYSIDE SPONSOR!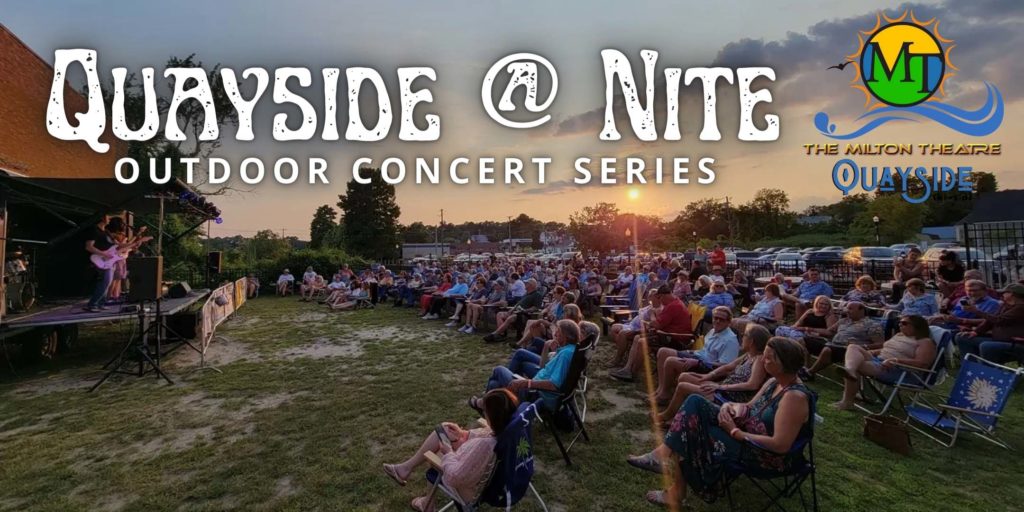 The Milton Theatre remained a pioneer in live entertainment despite the pandemic by expanding our outdoor programming during the summer of 2020. The result was our summer concert series "[email protected]" which has now become a warm-weather regional entertainment staple for all ages!
The Milton Theatre Quayside outdoor venue is an idyllic location situated by the picturesque Broadkill River, offering a unique and beautiful setting for events. The venue boasts a compact yet state-of-the-art stage, and a variety of open air seating options, perfect for concerts, festivals, and other live performances.
Become a Milton Pride Sponsor
Pride celebrations at the Milton Theatre are composed of vibrant and lively events that bring together members of the LGBTQ+ community and allies to celebrate diversity and inclusion. Featuring a wide range of performances and activities, including live music, drag shows, and dance parties, there are also informational booths set up by local LGBTQ+ organizations offering resources and support for attendees. The atmosphere is inclusive, welcoming, filled with positive energy, and is open to people of all ages and backgrounds.
The Milton Theatre is proud to be a leader in providing safe spaces for the LGBTQ+ community. We are committed to creating a welcoming environment where everyone can feel comfortable and accepted, regardless of their sexual orientation or gender identity.
Become a Zombie Fest Sponsor
The Milton Theatre Zombie Fest has a storied history that started back in 2014. The event was first conceptualized as a way to raise funds for the theatre and provide a unique and exciting experience for the community. It started as a modest affair organized with Po'Boys Creole restaurant with the theatre hosting a few zombie-themed events and films.
Through the years, the festival grew in popularity and scope. Now a full fledged festival with live music, street performers, vendors, Kid's Fest, zombie make-up stations, and the signature Zombie Walk attracting thousands to downtown Milton. People from the community have started looking forward to the event as a highlight of the fall season.
The festival has become an important source of funding for the Milton Theatre, allowing it to continue to provide high-quality entertainment to the community. The festival also serves as a way to bring the community together and provide a fun and memorable experience for all ages. Today, the Milton Theatre Zombie Fest is one of the most anticipated events of the year in southern Delaware that not just benefits the Milton Theatre, but other local organizations and businesses as well.