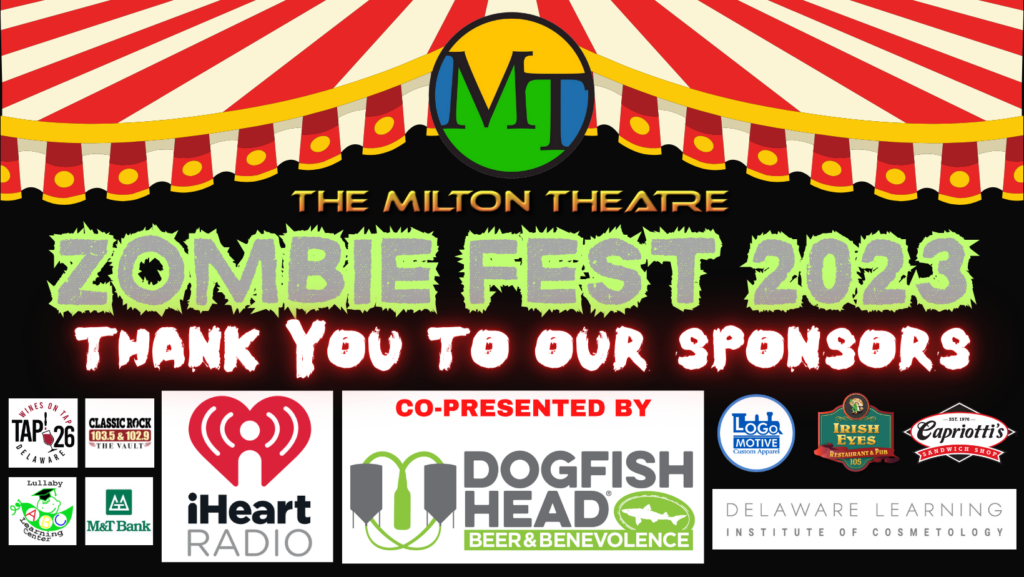 Be a part of the experience with a donation to the Milton Theatre Zombie Fest 2023.
Support Milton Theatre Zombie Fest and keep it a local favorite. Sponsorship levels available for all levels of engagement. Donations to the Milton Theatre Zombie Fest 2023 benefit the Milton Theatre, which supports scholarships for our students, improvements to our programming, and restorations and renovations to our historic theatre. Among those planned restorations includes building balcony seating after the balcony was destroyed in a fire, which in addition to numerous floods forced the theatre to close decades ago. Other planned improvements to the building include the addition of our brand new balcony and much more
Frequently Asked Questions
Parking & Shuttle​
Thanks to our sponsor, Dogfish Head, we are able to offer off-site parking and shuttle services to the Zombie Fest festival grounds. We encourage all of our guests on Saturday, October 21 to take advantage of the ample parking at Dogfish Head Brewery and free shuttle. 
Parking Address: 6 Cannery Village Center, Milton, DE 19968
Shuttle Hours: 3pm-12am
Pickup: Dogfish Head
Drop off: Milton Volunteer Fire Department
NO outside food or drink will be permitted into the festival grounds. Please enjoy the food and beverages offered by our vendors. 
NO large bags or coolers will be permitted. All large bags or coolers are subject to search by festival staff. 
NO weapons or realistic-looking weapons. Costumes may not contain any props that could easily be mistaken for an actual weapon. Costumes may not contain sharp objects, pointed objects or materials that may accidentally strike or injure another patron.
Quayside Stage: 4PM - Nick Kashmanian Trio
Rock trio formed by Nick Kashmanian on guitar joined by Alex Kashmanian on bass and Eric Jenkins on drums!
Quayside Stage: 5:30PM - Lower Case Blues
New fusion of old blues, funk, and rock!
Lower Case Blues is a jammin' trio that plays a new fusion of old blues, funk, and rock! Since 2003, lOWER cASE bLUES has been giving Delaware and the tri-state area some of the best blends of blues and rock music.
Quayside Stage: 7:30PM - Caligula Blushed
The most authentic tribute to The Smiths and Morrissey working today!
Dedicated to the notion that fans of the Smiths and Morrissey want to hear some of the greatest music ever written in a true live concert setting, Caligula Blushed delivers an authentic rendition of Smiths/Morrissey songs, with each performance based on an impeccable set list.
Milton Zombie Fest is an opportunity for kids and adults alike to get in the spirit of Halloween. Celebrate Halloween with your family at our fun-filled event! Join us for a spooky good time! Dress up in your scariest or funniest costumes and show them off at our Kids Costume Contest. Enjoy our numerous games and win exciting prizes. Don't forget to indulge in our tasty treats and beverages. This event promises an unforgettable Halloween experience for the whole family. 
KidsFest will be bigger and better this year complete with bounce houses, games, crafts and zombie makeup stations just for Zombie Kids and their families! Get ready to have a hauntingly good time!
This year's KidsFest will feature The Sandy Roost: Face Painting & Balloon Twisting!

Transform into the undead with expertly crafted zombie makeup by the Delaware Institute of Cosmetology. Professional artists use intricate techniques, prosthetics, and a macabre palette to create chilling wounds, decaying flesh, and hauntingly lifelike features. Unleash your inner zombie and stun with a horrifyingly realistic look. These professional makeup artists will bring your zombie fantasies to life, ensuring you're the center of attention with a hauntingly realistic undead look. Upgrade your fright night with expertly applied zombie makeup for an additional fee and make this night one to remember.
Get ready for the spookiest night of the year! Enter our Halloween costume contest for a chance to win some ghoulishly great prizes. Dress up as your favorite horror movie character, a classic monster, or get creative with a unique and terrifying costume.  The winners will be chosen by a panel of judges. So, get ready to show off your scary, funny, or creative costumes and join the Halloween fun!
Kids Costume Contest
Adult Costume Contest
Pet Costume Contest
Foolish mortals… watch your back, the festival grounds will be filled with mischievous FREAK SHOW acts of all kinds! This troupe of human curiosities will be arriving in town… and together with the zombies are sure to cause some fun troubles on the side!
Freak Show acts will be roaming the event grounds to interact with festival goers before leading the "Zombie Walk"
Evan Young – Juggler

Erin Flanigan – Aerialist

Krystal Younglove –

Circus Sweetheart 
Kristoffer – Stilt Walker
The Nova Nyx – Fire Dancer
We're making this night even more spooky and thrilling with the addition of a Laser Light Show to light up the night sky! 
You won't want to miss streams of laser beams of various colors pulsating to the beat of eerie music as smoke machines fill the air with fog making ghostly shapes and creatures form through the interplay of light and mist. You'll be awed and hypnotized by the spectacle, with each new visual twist bringing gasps of amazement and shivers of terror.
Zombie Walk INVADES Downtown Milton
Tickets to join our Zombie Walk are FREE! Reserve spots in advance.
Attention all brave souls and zombie enthusiasts! Prepare to shuffle your way through the streets of Milton in the spine-chilling ZOMBIE WALK, an exhilarating highlight of the Zombie Fest 2023 Carnival!
Registration is free!
Zombie Walk is OPEN TO EVERYONE! Gather the family, friends, and community groups and be part of the invasion! Come in decorated bikes, scooters, hoverboards, and even golf carts! There's nothing better for a community to feel alive once again by becoming the "undead"… together!
Join the Zombie Walk as zombies take over downtown Milton! Walk in this Zombies-only parade!
Register in advance. A great activity for families, friends, or company!
Line up for walkers and vehicles starts 7:45 at Atlantic Ave and step-off is at 8:00 PM heading south along Union St. and ending at Federal St.
Spectators line up along Union St from Atlantic Ave to Federal St.
As the city was overrun by zombies, the food trucks became an easy target. The scent of fresh food drew the undead like moths to a flame. The once bustling streets were now littered with overturned food trucks and debris. The lucky ones had managed to escape, but many were not so fortunate. The sound of sizzling meat and frying oil was replaced with the sickening squelch of rotting flesh and bones crunching. It was a reminder that in a zombie apocalypse, even the simple pleasure of a hot meal was a luxury few could afford.
None of our Zombies will go hungry with this incredible lineup of Food Trucks coming for Zombie Fest 2023! Check out them out online or see the menu below:
Breakfast Waffles
Dessert Waffles
Syrups
Fruit
More Toppings
Shaved ice
Plenty of Flavors to Choose from!
Zombie Tacos!
Empanadas
Quesadillas
And more!
Soft Pretzels: Original & Brown Sugar
Pretzel Zombie Fingers (Hotdogs)
Homemade Cream Cheese Icing
And more!
Smash Burgers
Hot Dogs
French Fries
Vendor Opportunities
CALLING ALL QUIRKY, FUN, AND UNIQUE VENDORS THAT ARE WORTHY OF THE UNDEAD.
Accepting 49 merchandise and small-wares vendors and 8 food truck vendors.
Date & Time: Saturday, October 21 from 4-9pm
Attendance: Nearly 5,000 people
COST:
Merchandise Vendors: $100 Donation (paid in advance)
Food Truck Vendors: $300 Donation (paid in advance)
See our approved merchandise vendors below:
Beautiful Tydyes by Glenn Bernstein
Chelsea Gebbia Art
Kimberly Duko Art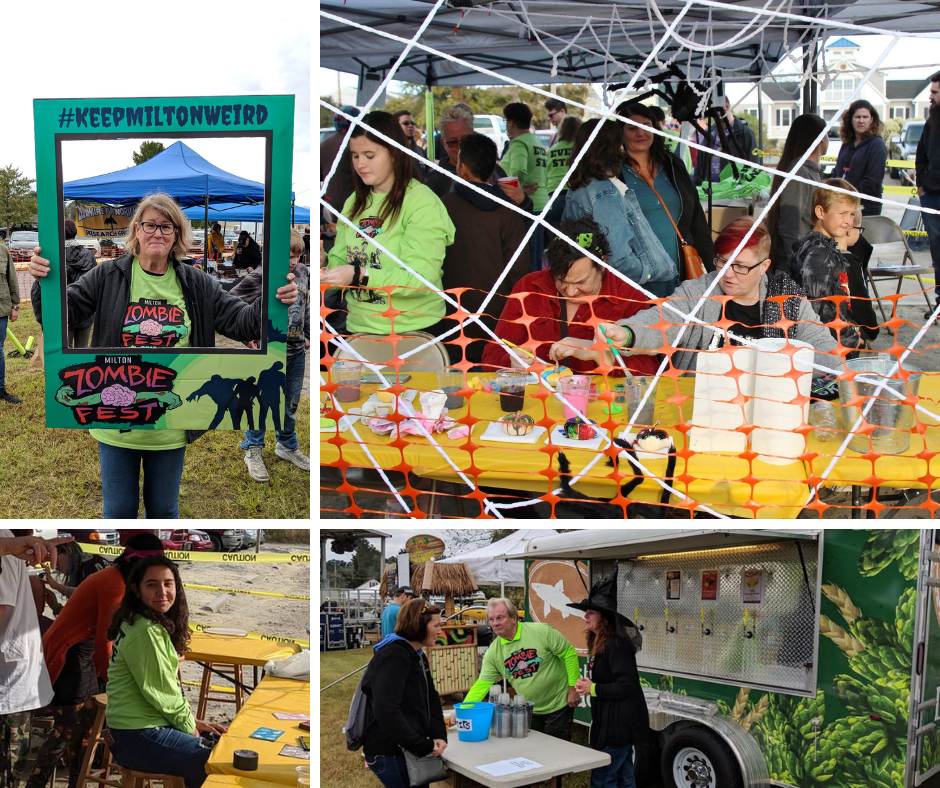 Be a Zombie Volunteer
Looking for a fun and rewarding way to spend Halloween? Become a volunteer at our event! We are seeking enthusiastic individuals who are excited to help us create a spooktacular experience for our community. As a volunteer, you will have the opportunity to be involved in a variety of roles such as assisting with decorations, supervising carnival games, and more. Best of all, you'll be part of a team dedicated to making Zombie Fest 2023 memorable for everyone who attends. Join us for a hauntingly good time by signing up to be a volunteer today!
We rely on our volunteers to help make every event fantastic. If you have questions about becoming a volunteer, please reach out to [email protected].